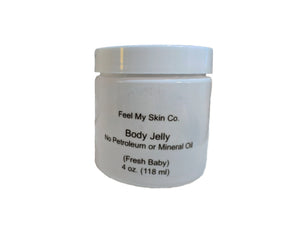 To Use:
Apply to dry skin or hair as needed.  
Ingredients:
Soybean oil, Candelilla wax, Fragrance oil, Vitamin E T/50 oil
*Note if unscented fragrance is unlisted.
Notice:
Packaging is subject to change without notice. 

DISCLAIMER: 

These statements have not been evaluated by the FDA (Food And Drug Administration). This product is not intended to diagnose, treat, cure, or prevent any disease. 
Smells so good
I get the vanilla scented body jelly and it smells so good. A little goes a long way. It's good for your knees, elbows, and feet. Makes my skin so soft and luscious.
Love it!!
This body jelly feels so good. It makes me feel so soft & I love the way it melts into my skin!!
Body Jelly
This is an excellent product for dry skin. In the past I tried many products that did not address the dryness of my skin. The body butter was moisturizing and it kept my skin from drying out all day. I would recommend this body for anyone that has the problem with dry skin.