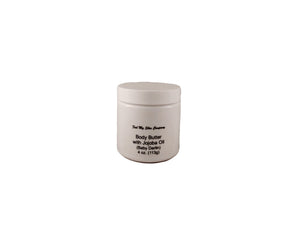 Our Body Butter With Jojoba Oil, is a multi-use moisturizer. Safe to use on your face, hair, and body. Just don't eat it!
To Use:
Apply to dry intact skin.  
Ingredients:
Sunflower Oil, Soybean Oil, Deionized Water, Jojoba Oil, Emulsifying Wax NF, Saponified Beeswax, Aloe Vera Leaf Juice, Chamomile, Phenoxyethanol Caprylyl Glycol, Fragrance  
*Note: If unscented fragrance is unlisted.
Notice:
Packaging is subject to change without notice. 

DISCLAIMER: 

These statements have not been evaluated by the FDA (Food And Drug Administration). This product is not intended to diagnose, treat, cure, or prevent any disease. 
Body butter
Feel my skin is a great line of products that I have used for more than 10 years. My favorite is the body butter that I use specifically on my feet. During the shut down due to the pandemic I used it daily. When salons opened back up and I was able to get a pedicure, my nail tech said your feet are so soft. I said because I use body butter the BEST moisturizer ever!
Softest Skin Ever!!!
Body Butter is light and fragrance is beautiful. The Jojoba Oil is fabulous. I use this at night for my feet elbows and knees and my hands. This step has my skin feeling soft and relaxing